Freshman Retreat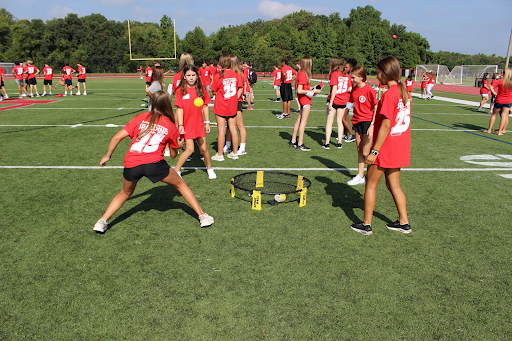 The transition to high school is a daunting one. Some of us came from schools where we knew the same 20 or so people for nine years. Others came from many different schools. However, as we walk out the doors of our quaint and familiar classrooms, we enter a new stage in our lives. This new stage is high school. 
As the freshmen of Archbishop Spalding class of 2025 walked into the school on their first day, countless thoughts filled their heads. Mixtures of fear, nervousness, and excitement flooded their minds like a raging river. However, overwhelmly, the most eminent of these feelings was probably fear for most. It is a scary feeling to walk into a school where you may or may not know many people. Nevertheless, as we took our first steps into Archbishop Spalding, the kind staff and students put our restless minds at ease. One of the best of these icebreakers was the freshman retreat.
On August 31, all the class of 2025 freshmen gathered together for a day of fun. As they gathered in the PAC and received their group information, it was exciting. There were so many new people to meet and things to explore in the incredible campus. They gathered in their groups and the festivities quickly began. 
In the different homerooms, the seniors began with icebreaker activities where each student had to present their own personal preferences. Soon everyone was laughing and enjoying the different activities. Additionally, there was a field full of various games and activities such as spike ball, football throw, and cornhole. There was even a race taking place. Lastly, the freshmen created a note to their senior selves reflecting on how they felt walking into Archbishop Spalding and how their thoughts and opinions may change as they grow older. As they finished off their day, the school began to feel more familiar.
Now as we are a month into school at Archbishop Spalding, it can be said with certainty that, together, we have made this school our own. Each day is a new beginning and a new adventure. With each day, there is always something to look forward to. As we look toward our future at Archbishop Spalding, we don't feel nervous, but rather excited for new beginnings and incredible experiences. Soon the freshmen will be seniors before we know it is happening, and will remember the freshmen retreat. Maybe your future best friend was there with you on freshman retreat. All in all, we can all agree that the freshmen retreat was a great experience and an amazing way to start off this year strong. Go Cavs!