Spalding Victorious over Mount Saint Joseph at Ravens RISE
Caitlin Clark ('19), Writer/Editor
December 13, 2018
Hang on for a minute...we're trying to find some more stories you might like.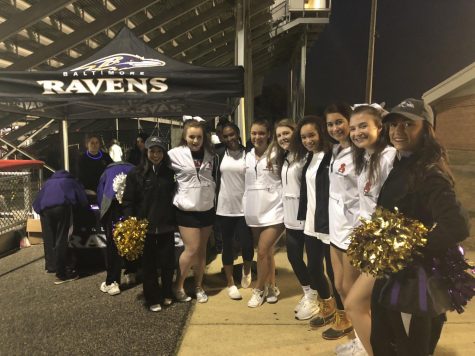 Friday, November 2nd was Archbishop Spalding's Senior night that ended with a victory against Mount Saint Joseph in the Ravens RISE Showcase.
The first half of the game was dominated by Mount Saint Joseph leading with a 23-0 score at halftime. Spalding changed the game in their second comeback, as senior Jayden Umbarger led a second-half charge and scored four straight touchdowns. This led to a 28-25 victory for the Cavaliers and the student section rushing the field in the pouring rain.
Archbishop Spalding also won the Ravens RISE High School Showdown. The stadium was outfitted with Ravens banners and flags and included tents with glow sticks. The Raven mascot, Poe, and the Raven Cheerleaders were also present at the game in supporting the Cavaliers. In addition to this visit by the Ravens, $1,500 of donations are being awarded to Archbishop Spalding's athletic department.
Since this was the last home game of the season, Spalding celebrated and recognized 20 graduating seniors of the football team. These seniors were announced at the game as they walked onto the field with their families: Zaire Allen, Jake Arbogast, Adam Barclay, Jordon Best, Michael Brando, Marcus Butler, Chris Clark, Stephen Cobbs, Derek Diehl, Brevin Easton, Jeffrey Gray, Alexander Green, Brandon Green, Landon Hernandez, Logic Hudgens, Justin Lopes, Ethan Paige, William Sherwood, De'Sean Spencer, and Jayden Umbarger.
The dance team also celebrated their senior night with five graduating senior girls: Morgan Chapin, Madison Dougaree, Kaylee Henson, and Isabella Maria Lowe.
The Cheer Team seniors were celebrated as well: Emily Dagirmanjian, Sophie Fischer, Shawna Klosterman, Alayna Martinez, Monica Mercurio, Maya Nahmias, Hailie Perez, Alyssa Thomas, and Rachel Thompson.